NEW ALBUM - "A/LIVE/AS/ONE" Written by jon cohen, recorded at the diving bell social club, august 2022
Filmed by Jesse Daniel Smith and Elena Samuel on Aug 22, 2022 @ The Diving Bell Social Club in Montreal, Quebec after a cross Canada solo tour. Video editing by Jesse Daniel Smith. Audio Recording by Mike Poisson. Mixed & mastered by Jesse Daniel Smith.
Album
A/LIVE/AS/ONE (Live @ Diving Bell)
The JCEX
Press / Reviews
""..Cohen sounds restrained, comfortable and most importantly, like no one else in the Canadian music scene at the moment."" - Danny Sylvester
— Exclaim!
""Go Getters is an truly remarkable band effort and a combination of everyone in the band's input. What Jon Cohen has here is a finely oiled machine"" - Owen Maxwell
— CultMtl
""..JCEX réussit l'exploit de livrer une musique directe et dansante, menée par le beat, parfois hypnotique mais toujours catchy." " - Julien Deverre
Press photos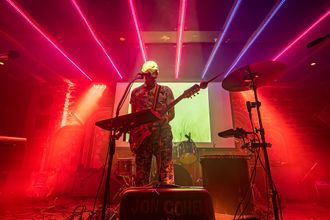 LIVE AT THE DIVING BELL MONTREAL 2022